admin
| November 18, 2010 |
6 comments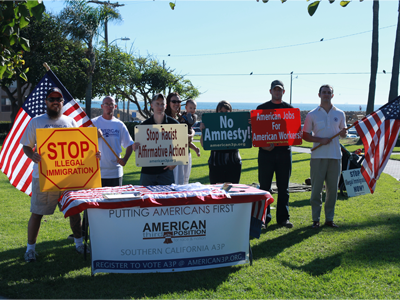 A3P's Southern California activist branch held yet another pamphlet distribution last weekend in Seal Beach, a relatively small seaside city on the edge of Orange County's northernmost coastline. An area largely populated by retirees, the vicinity surrounding a massive pier abutting Seal Beach is considered friendly territory by our activists. Older Americans understand our country has changed. They were born at a time when America was a different place.
A good portion of middle-age and younger Americans have never lived in a unified and proud America. All they have ever known is guilt and fear and multiculturalism. Older Americans were not taught in their youth to hate their nation. American culture was different then. The assault on our national pride has been gradual and has taken a long time.
According to reports by activists, last Saturday's work done on behalf of the A3P by our Southern California activist branch was quite pleasant. Surrounded by perfect weather and beautiful scenery, they set up their information booth and once again proposed to ordinary Americans A3P's agenda for fixing our country.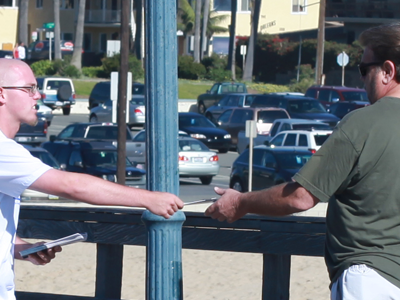 It was mentioned by one of our activists that a few of the people he met with, though discouraged by the progressively worsening state of our nation, embraced our platform and its solutions for turning things around.
"A number of people I spoke with genuinely recognize our nation's dilemma," reported party member Mitch Stevens. "They realize we're in for disaster if something doesn't change. Hopefully, their learning of our party will inspire them to do what they can for the good of our people."
Stacey Winters, another attendee and party member, had the following to say: "The best parts of this day were being able to work with a few new activists and also seeing one of our members after not meeting with him in quite a long time. Many of our SoCal members have now known each other for more than a year. We are building a small but strong community in this area, and our community continues to grow."
The platform of the American Third Position creates a common ground on which Americans of all ages can work together for the benefit of the country we love. A3P members aspire to build strong activist communities in all the states of our country. If you would like to become involved with our effort, please contact our national staff:
Category: American Voice, Establishment News