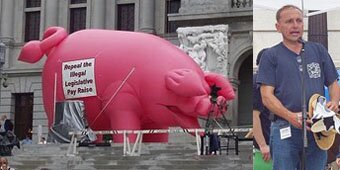 In an indication how far down the road to Fascism America has slipped since the Patriot Act became law, a peaceful long-time political Pennsylvania activist who once ran for a Democratic nomination has been added to the terrorist watch list by an Israeli-based "security consultancy" to the government.
Gene Stilp, who has been an independent activist exposing graft and government abuse of funds since the Three Mile Island incident, has won fame mostly for his 20 ft inflatable pink pig which he uses to publicize issues.
Mr. Stilp, who is not and never has been linked to the A3P, stood for the Democratic nomination of lieutenant governor a few years ago.
He also famously brought public attention to the more than $3 million in taxpayer-funded "meritorious bonus payments" that House and Senate leaders had given to hundreds of staffers in 2005–06.
Mr. Stilp filed a lawsuit seeking to find out if any of the bonus payments went for political campaign work, which would be illegal, rather than as a reward for long hours of legislative work.
Other lawsuits filed by him include ones against pay raises in 2005, against unvouchered expense accounts for lawmakers, against tying state judges' salaries to those of federal judges, and against the four $50 million "leadership accounts" controlled by House and Senate Democratic leaders.
In other words, Mr. Stilp is a right pain for the government, whoever they may be. But the point is that he has always openly, democratically and peacefully, presented his opinions and views, and never once been involved in any sort of subversive activity.
Yet Mr. Stilp has now been put on a state terror threat list by Homeland Security officials submitted by the Israeli-based Institute of Terrorism Research & Response (ITRR) organization, which is officially contracted to the Department of Homeland Security to provide such intelligence.
The ITRR is a commercial company despite being registered as a non-profit organization in America with offices in Philadelphia, Washington D.C., and Jerusalem.
The ITRR was paid $125,000 to compile the list as part of the state Homeland Security's federally mandated mission to protect public infrastructure, reports said.
Mr. Stilp was included in the "intelligence" which the ITRR provided after he attended an anti-tax protest in Harrisburg with his pink inflatable pig.
Homeland Security officials then distributed the list in a security bulletin to government and law enforcement officials, Pittsburgh City Council members, universities and gas drilling companies.
Mr. Stilp has announced the he is preparing a federal lawsuit for the violation of his civil rights.
According to the ITRR website, that organization's "US-based experts specialize in facing and overcoming domestic forms of terrorism like environmental, ecological, anti-abortion, anti-government, and 'home-grown' religious extremism."
Furthermore, it boasts that "ITRR's Israeli and American experts provide counter-terrorism training, seminars, and security specialization in dealing with threats such as Weapons of Mass Destruction (WMD), suicide bombers, and other forms of international terror striking both the public and private sector."
There are two issues at stake here: firstly, what is an Israeli company doing advising the Department of Homeland Security on who are potential terrorists; and secondly, Mr. Stilp's case is yet another example of how the powers vested in the state by the Patriot Act and the Homeland Security Act have grown completely out of control.
The powers-that-be have very nearly completely subverted the principles of the American constitution.
The light of liberty is fading fast and only determined action will save it from being completely extinguished. Are you ready to do your part?
Category: Establishment News