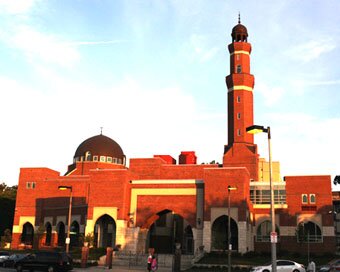 Dramatically increased immigration from the Middle East has been cited as the reason why schools in Cambridge, MA, will from next year incorporate Muslim religious holidays into its attendance timetable.
The announcement, made by school district authorities, will see schools in the Cambridge area close for one Muslim holiday each year beginning in the 2011–2012 school year.
The school will either close for Eid al-Fitr or Eid al-Adha, also known as the Festival of Sacrifice, depending on which holiday falls within the school year.
The decision is even more remarkable after the furore which followed a May 2010 Wellesley, Massachusetts, to the Islamic Society of Boston Cultural Center — a controversial Saudi-funded mega-mosque run by the Muslim American Society of Boston. There, the students were separated by gender and the boys were asked to join the Muslim adults in their prayer.
According to Cambridge School Superintendent Jeffrey Young, the district does not collect information about the religion of its students. "But," Young said, "there is a significant Muslim population in the city, and that, at least anecdotally, the Muslim population in the schools appears to be growing."
In fact, the steady wave of immigration from Muslim nations is already having an impact in other parts of America.
Apart from the well-known case of the Muslims from Somalia colonizing Minnesota and disputes over Muslim , a large Muslim population is one of the reasons why the school district in Dearborn, Michigan, began closing schools for high Islamic holy days 10 years ago.
In September this year, public schools in Burlington, Vermont, also closed on Eid al-Fitr for the first time. Dan Balon, director of the school district's diversity and equity office said there was an "increasing Muslim population in the schools, and the district decided to close on the holiday rather than risk low attendance rates and force students to decide between school and staying home to celebrate the holiday."
In 2005, more people from Islamic countries became legal permanent United States residents — nearly 96,000 — than in any year in the previous two decades.
According to official estimates, native-born citizens — mainly black converts in jails — make up only 25 percent of Muslims in America, with all the rest being recent immigrants from the Middle East, India, and Pakistan.
According to a 2010 estimate by the Council on American–Islamic Relations (CAIR), there are some 7 million Muslims in America, which means that in excess of 5.25 million Muslims have entered the U.S. within the last 15 years.
Category: Establishment News