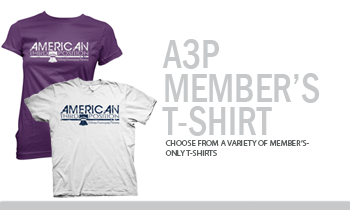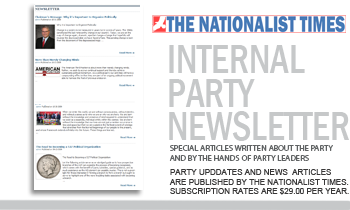 The work we performed last year provides a foundation for our second year's further accomplishments. Thanks to the dedication of numerous A3P activists, much of the party's basic infrastructure already exists. This allows second-year activists an opportunity to pursue promising new projects that will grow our party.
New fliers, a new shirt, and new plans for 2011. Help the American Third Position continue to grow and carry out its mission to win political representation for our people.
The Nationalist Times, the voice of the American Third Position, is available to new members only at the rate of $25.00 with New Membership. Subscription rate for renewing members is $29.00 with Renewal. (Published since 1985, anyone may subscribe to The Nationalist Times at American Nationalist Union.)
(NOTE: Numbered Membership Coins are issued to NEW members when they join only! Renewal memberships include the unique A3P T-Shirt. Additional items will be added in the future.)
If you prefer an offline option, you may send a money order for $40 for renewal or $69 for renewal with a subscription to The Nationalist Times, to the address below. Include your name, your mailing address, and your preferred shirt size and style.
**Please include $5 for shipping with all postal orders. Sorry, shipping costs have gone up. Online orders will automatically include a $5 shipping fee.**
American Third Position
PO Box 5400
Grand Forks, ND 58206