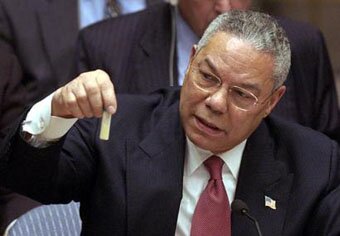 In a move which has not surprised anyone who is familiar with the antics of Colin "Iraqi chemical weapons" Powell, that former Republican Secretary of State has stabbed all grassroots members of his party in the back by calling for the endorsement of the DREAM Act which offers backdoor amnesty to millions of invaders.
Speaking on NBC's Meet the Press, Mr. Powell said his party should "not embrace an anti-immigration platform."
Ignoring all the data which has clearly linked immigration with increased violent crime, drug abuse, gangs, economic collapse, and the destruction of America, Mr. Powell went on to say that "Immigration is what's keeping this country's lifeblood moving forward. They enrich our culture with every generation."
This, of course, is not the first time Mr. Powell has been known to lie so blatantly in public. He will forever be remembered as the man who told the U.N. Security Council about Iraq's supposed "Weapons of Mass Destruction" — which never existed.
The DREAM Act which Mr. Powell has now endorsed is a rehashed version of an earlier bill first proposed in 2006.
The "new" version was submitted in 2009 by senators Dick Durbin (D-IL), Richard Lugar (R-IN), Harry Reid (D-NV), Mel Martinez (R-FL), Patrick J. Leahy (D-VT), Joseph Lieberman (I-CT), Edward M. Kennedy (D-MA), Russel D. Feingold (D-WI)[25], and U.S. Representative Howard Berman (D-CA). To date, 128 representatives and 39 senators have co-sponsored the bill.
Under the DREAM Act, illegal immigrants are offered a shortcut to legal residency and citizenship if they:
- Are between the ages of 12 and 35 at the time the law is enacted;
- Arrived in the United States before the age of 16;
- Have resided continuously in the United States for at least five consecutive years since the date of their arrival;
- Have graduated from a U.S. high school, or obtained a General Education Diploma (GED); and
- Have "good moral character."
This is nothing less than an outright amnesty, as it means the legalization of the status of millions of young, lawbreaking invaders, who have entered the U.S. illegally.
Mr. Powell's own Third World-origin antecedents have no doubt played a role in his decision to support the further invasion of this country, but grassroots Republicans across the country are in an uproar over the proposal.
Astonishingly, Mr. Powell then went on to provide evidence of the destructive nature of the immigration invasion amnesty which he now supports.
Casually remarking that "America is going to be a minority nation in one more generation," Mr Powell pointed out that right now, "50 percent of our minority kids are not finishing high school."
In other words, immigration has already devastated the public educational system through the importation of low-performing Third World immigrants — but Mr. Powell and his ilk want more of the same, not less.
Grassroots Republicans will soon find out that their party leadership is fully complicit with the betrayal of our nation's heritage.
The American Third Position stands ready to take up the cudgels on behalf of our people. Are you ready to help?
Category: Uncategorized