admin
| February 17, 2011 |
no comments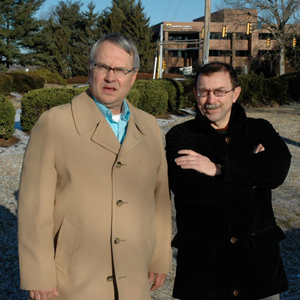 Chairman's message
Nationalist Ricocheting Around at CPAC
Earlier this month (February 2011), I attended CPAC (Conservative Political Action Conference), the nation's largest annual gathering of conservative leaders and supporters. The event, held in Washington DC, had more than 11,000 attendees for each of its three days. While there , I had some interesting interactions, some of which I relate below.
1. Meeting with French Activists. I started the conference with a breakfast meeting at a Bob Evans restaurant in Virginia. I met with Frenchman Trystan Mordrel, a fundraiser for leading populist political parties in Europe. He asked me to give his regards to the A3P members and inform you all that he is very active fighting the Islamization of Europe. His hope is to bring together like-minded people from both sides of the Atlantic to share experiences and perspectives. He said, "As Europeans, we cannot ignore the people of European descent living in North America. As Americans, you cannot ignore any longer your European roots." A photograph of us at the end of the breakfast is featured above.
2. Fundamentalist Catholics in Support of Families. Among the many booths and displays at CPAC was a fundamentalist Catholic organization that was touting support for traditional marriage. Its logo (a red, pawing lion) was identical to a Catholic group to which I spoke in Brussels, Belgium a few years back. Accordingly, I was keen on talking to them. My first question to the person manning the booth was, "so you support traditional marriage; does that mean you oppose interracial marriage?" His response was: "Oh heavens no. Not at all. We are opposed to same sex marriage." He tried to hand me literature. I said that I was not interested in any marriage group that embraces interracial marriage.
3. Youth for Western Civilization. Around the corner from that booth, was a group called Youth for Western Civilization, run by Kevin Deanna, a stalwart activist on college campuses who not only had a booth at CPAC, but arranged an anti-immigration symposium there that included Bay Buchanan and former congressmen Tom Tancredo and Virgil Goode. (That symposium, by the way, was overflow, standing –room-only, out-the-door crowded. In attendance were Jim Gilchrist of the Minuteman Project and Jared Taylor of American Renaissance. The speakers said all the right things in an edgy, but still mainstream manner. Kevin Deanna did a wonderful job). In any event, at the Youth for Western Civilization booth, two people came up to me immediately and said: "I know you. You are the chairman of A3P. I watched your videos on Youtube." That was nice. I chatted with them for quite a while, then who do I see coming up but the man from the Fundamentalist Catholic booth that would not take a stand against interracial marriage. I listened to him talk for a while and concluded that he is clearly of like mind with us, but was too hesitant to take a stand that may bring some heat onto his organization. It is great to be a member of the American Third Position where we are proud of our proper stances.
4. Run in with Israel Supporters. Another booth down the hall was CUFI, (Christians United for Israel). I walked passed them with Jamie Kelso (an A3P supporter)when a young, pretty girl tried to hand me a pamphlet. She said that she was a Christian in support of Israel. I said, "well, what about Christians opposed to Israel? " She said, "how can you be Christian and oppose Israel." Jamie Kelso said: "Well, Israel has driven out the Christians from its country." She said, "I was in Israel just last year and there were Christians living there." Kelso countered that there were many more Christians in Israel when it was under Muslim rule. At this point, a Jewish supporter behind the booth jumped in to defend Israel's actions . Harsh words were exchanged and the Jewish supporter said it was all he could do to refrain from punching us. Kelso said: "That's a terrorist threat." It was clearly time to leave so we moved on.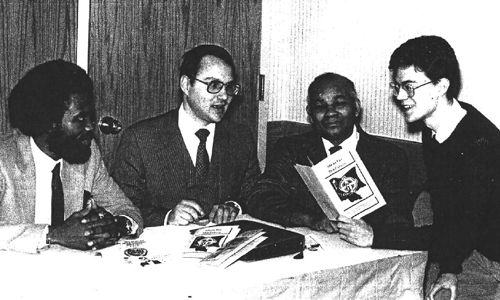 5. Photo from 25 years ago. While waiting for a table at the hotel café, an A3P supporter came up to me with Bob Foy, a local DC photographer. Bob Foy said that he heard that I was coming, so he brought a photograph that he had taken of me 25 years ago when I was a guest speaker at a back-to-Africa Black Nationalist forum. The picture shows a young Bill Johnson with black nationalist Robert Brock and others. We are looking at the pamphlet of a white group called "The Nationalist Movement." Richard Barrett from Mississippi founded this organization. He was recently killed by one of his black neighbors. The photograph is attached.
6. Phyllis Schlafly's Eagle Forum. Another booth that I stopped at was Phyllis Schlafly's Eagle Forum. It was manned by two young, beautiful co-eds, one brunette and one natural blonde. We talked for a while about my children and how they are fairly supportive of my views but that my views were not within the mainstream of most CPAC attendees. The brunette inquired if I was to the right or to the left of CPAC. I said, neither. I was a racial nationalist. She said: "Oh so you're a racist? You don't think that god created all people equal?" Just then a random man walking by interjected: "Of course we are all equal, but some are just more equal than others." Before I could respond, the blonde somewhat came to my defense and told the brunette not to use such strong words, but to hear me out. I then explained that I teach each of my children to only date within their race and that I expect each of them to marry whites and have lots of white children. Both girls nodded acknowledging that that was a good thing.
7. Other Meetings. I met with several congressmen and former congressmen, some for quite a few minutes, but I did not discuss anything of substance with any of them except border control issues. Also, at the president's dinner, I sat next to the head of a small conservative political party. We argued for more than an hour over race issues. Like most conservatives, he has no desire to conserve the environment or the white race—the two most important things that need to be saved.
All in all it was a good place to gather. A3P may want to consider buying a booth at next year's CPAC.
Keep up the good fight.
Regards,
Bill Johnson
Chairman, A3P
Category: American Voice, Establishment News