Racism: Across the U.S., mobs of black youths are organizing on Facebook to loot stores and beat whites. Yet none dare call the "flash mob" attacks hate crime, least of all the attorney general.
The Associated Press is reporting that at least one of those arrested in the Wisconsin State Fair beatings said the mob was targeting whites, making it a hate crime. Where is Eric Holder's civil rights division? About this epidemic of black-on-white assaults, we hear nothing.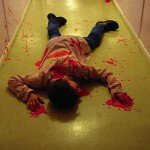 At the Milwaukee fairgrounds, dozens of black teens suddenly appeared, knocking over children, looting the Midway games and stealing prizes. They pulled whites from cars, flung them to the ground and punched and kicked them in the face. At least 18 people were injured, including some cops.
A similar beat-down took place August 2010 at the Iowa State Fair. Organized as "beat whitey night," bands of black teens targeted white kids, fracturing one of their skulls. Then the thugs swarmed police, hitting one cop from behind and busting both his eye sockets.
Earlier this month in Philadelphia, marauding black flash mobs beat and robbed tourists and other innocent bystanders. Several people were hospitalized, including one man with a fractured skull.
Mayor Michael Nutter, Philly's third black mayor, said enough is enough. In an angry lecture from the pulpit of Mount Carmel Baptist Church, he blasted the punks, saying "you have damaged your own race."
Similar attacks are under investigation in Los Angeles, Chicago, Cleveland and Washington, D.C., where our first black president remains mum.
Why isn't Obama equally disgusted by the black mob attacks? Perhaps because his own church glamorized the thug culture. His mentor, Rev. Jeremiah Wright, told his South Side Chicago flock that those committing black-on-black crime are "fighting the wrong enemy." During the 2008 presidential campaign, Geraldine Ferraro condemned Wright for preaching to young blacks that "it's OK to beat up on white people."
Eric Holder would have launched a special investigation if the flash-mob victims were black. With the races reversed, he just shrugs. In so many words he has said blacks are incapable of hate crimes because of their victim-hood.
"There is a pervasive hostility toward (prosecuting) these types of cases," said Christian Adams, a civil rights attorney who quit after Holder refused to prosecute the New Black Panther Party for intimidating white Philly voters in 2008.
To Holder, blacks are the permanent victims. But his department's own data say otherwise. In most cases of interracial crimes, the victim is white and the perp is black. Black criminals choose white victims 45% of the time, while whites victimize blacks 3% of the time. More than twice as many whites are murdered by a black than cases of a white murdering blacks.
Reprinted from Investors.com
"The American Third Position believes that government policy in the United States discriminates against whites, and that whites need their own political party to fight this discrimination"

Consider giving $5.00 or $10.00 now to the
Harry Bertram for Governor Money Bomb!
Category: American Voice, Establishment News