admin
| September 20, 2011 |
2 comments
The Dominion Post talked with American Third Position gubernatorial candidate Harry Bertram about his campaign and his views on issues he would face as governor. Here are his answers.
Marcellus Shale Laws
"We need more inspection and regulations. …I think it can be a win-win situation for the people of West Virginia," with profits for the gas companies and mineral owners, and good jobs for the industry workers.

With proper environmental protections and surface owner protections, "there's no reason why everybody can't be a good neighbor and make money."

He would lean toward until the 2012 session to work on a bill, instead of calling a special session. Then he would call upon the voters to call and write their legislators to pass a bill. "If they don't do it, they'll be turned out of office. There's now excuse for this [three-year delay in getting regulation]. I really don't understand it."
Crime
Minor drug offenders shouldn't go to jail. Alternative sentencing and rehabilitation suitable to the offense will help stop overcrowding.
Economic Diversity
"The only way you can bring in another pool of money is to bring in more jobs — what we call 'American first policy,'" Bertram said. The other options are tapping into the Rainy Day Fund, which is limited, making cuts or raise taxes.

"There's no magic bullet, there's only one place to get the money — that's from the people who are still working," he said.

To lure in new business, the state will have to offer tax incentives and change its tax structure to make it more business friendly.

American companies that outsource their production to use cheap labor pose a problem. "We have to say 'come home' and start making it here, and everybody can win and start making money. …America first," Bertram said. "It's that simple. You don't need all the big words, you don't need all the fancy maneuverings. Just put America first."
Education
"Engage kids in something they have an interest in."

Teachers would like a raise, but the pot is limited. "Everybody would like to have higher pay, but can we stay the course? When times are tough that probably isn't going to happen," Bertram said.
The Road Fund
Tap into the Rainy Day Fund. Cut waste and fat throughout state budget. "I wouldn't raise taxes because people are already stretched."

He said he is OK with the idea some have posed to establish an infrastructure trust fund using increased Marcellus gas severance revenues.
The Future of Coal
"Until we come up with a better energy source, I see coal still being a big part of [the energy portfolio]." West Virginians don't like nuclear power, and it would be too challenging to convert coal plants to gas. "When people hit that switch they want their lights to come on."

He's frustrated that America can put people on the moon but has trouble promoting clean coal technology. "I think one of the reasons is that we haven't invested enough time and energy into it. There's just not the will to do it."
Taxes
"I think we need to look at the whole ball of wax and see what we need and what we can cut. … Less taxes, less regulation, smaller government." When a tax gets raised, it almost never gets lowered. "Bureaucrats love a tax."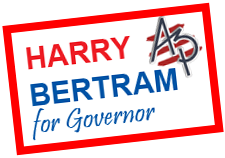 Volunteer! Sign-up for Harry's campaign.
Visit Harry Bertram's web site www.Bertram2011.com !
Help Harry Bertram's final campaign push to get the word out! Contribute now!
Category: American Voice, Establishment News