By Eric Ruark, FAIR Director of Research | Former Maryland basketball coach Lefty Driesell once said that his plan was to make the University of Maryland "the UCLA of the east." It now seems that Maryland Governor Martin O'Malley is trying to make Maryland the east coast equivalent of California when it comes to catastrophic sanctuary policies. The Maryland DREAM Act signed into law by O'Malley on May 10, 2011 grants in-state tuition to illegal aliens residing in the state. Just like the federal version, Maryland's DREAM Act rewards and encourages illegal immigration and has a detrimental effect on legal residents of the state. With a structural deficit of $1.1 billion and the annual cost of illegal immigration to Maryland taxpayers at $1.7 billion, O'Malley and his political cronies somehow think that catering to illegal aliens makes perfect sense.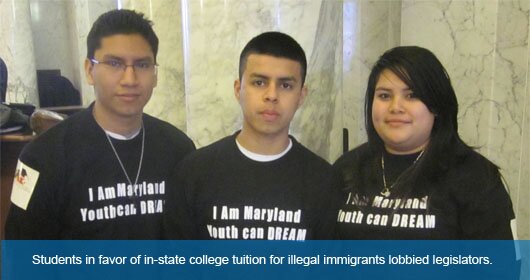 The practice of putting the interests of illegal aliens above legal residents is nothing new in the "Old Line" state. University of Maryland-College Park (UMCP) computer science professor James Purtilo, and a former associate dean, told FoxNews.com that "he frequently saw admission officers favor students because of their 'undocumented' status." According to Prof. Purtilo, admission officers "favor students with special circumstances. 'Undocumented alien' would be one of these special circumstances… They help fill out the diversity picture for the admissions office."
Purtilo, who is critical of the DREAM Act because he thinks it is unfair to legal Maryland residents and taxpayers, said that the feeling among some university administrators is that "obviously we need more of these [illegal alien] students…'they're enriching the College Park experience.'" These candid comments give a real window into the thinking of the politicians and bureaucrats who find nothing wrong with granting benefits to illegal aliens at great cost to Americans. Not only are Maryland's taxpayers subsidizing the education of every DREAM Act beneficiary (to the tune of over $16,000 at UMCP), every seat at a Maryland university taken by an illegal alien is a spot denied to a legal Maryland resident.
The Maryland DREAM Act has outraged many Marylanders and sparked a petition drive to have the law put up for a referendum in 2012 that the bill's opponents hope will lead to its repeal. The effort is well on its way to collecting enough signatures but still needs to take action to help overturn the bill and send a powerful message to the special interests firmly in control in Annapolis.
Also see: LA Times story about tuition policies.
Category: American Voice, Establishment News