Under federal-state settlement a new exam would have to be created.
The civil service test for selecting sergeants in New Jersey municipal and county police departments discriminates against black and Hispanics applicants and government officials must create a new one, the U.S. Department of Justice announced on Monday.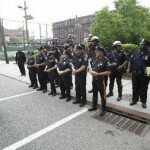 If a settlement that includes the finding is approved by a federal judge, the state will also be required to pay $1 million in back pay to black and Hispanic officers who the U.S. Civil Rights Division declares were harmed by the promotion process. The officers may also be given priority for the next openings for sergeants.
According to the settlement, the use of the written exam prevented at least 48 more black candidates and 20 more Hispanics from becoming sergeants, The Star-Ledger reported.
"Police officers, whose daily responsibilities include protecting the public and ensuring the safety of others, have the right to be free from discrimination on the basis of race or national origin on the job," Thomas Perez, the assistant attorney general in charge of the Civil Rights Division, told the Star-Ledger. "The Department of Justice will challenge discrimination in employment on the basis of race or national origin, whether that discrimination is intentional or the result of promotional practices that have discriminatory impact."
The state did not admit any liability in reaching a settlement.
A Department of Justice lawsuit filed in U.S. District Court in Newark charged the written civil service test required for police officers to advance to sergeant was discriminatory.
Federal officials charged the examination was not useful in finding the best candidates for the job and led to disqualifications for a disproportionate number of black and Hispanic applicants, the Star-Ledger reported. When the lawsuit was filed last year, the Department of Justice maintained that at least 120 New Jersey municipal and county police departments used the discriminatory system from 2000 through 2008.
During that time period, 89 percent of white candidates who took the test passed, compared with 73 percent of African-American candidates and 77 percent of Hispanic candidates, the Star-Ledger reported. If the settlement is approved, police departments would have to stop administering the exam
NOTE: Can whites in New Jersey sue for having to take a more difficult exam than black or hispanic candidates? Was the original test discriminatory against whites?
Source: Newsroom Jersey
Category: American Voice, Establishment News