Staff | The event was organized by CofCC member and Pennsylvania A3P Chairman Steve Smith. This is the second year that Steve has organized this event. The increased success of the event has ensured that Steve will continue to organized the celebration for many years to come.
Members of the New Jersey and Eastern Pennsylvania Chapter of the Council of Conservative Citizens, as well as their families and friends, came together in Moosic, PA on Saturday, August 13th to honor and celebrate their European heritage.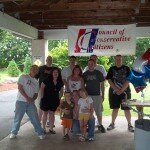 The picnic was attended by several dozen true American Patriots that are proud of their European heritage and culture; and they are not afraid to show it. Men, women, and children came from all over the region, even from as far away as Maryland, to show support for spirit of the event.
The atmosphere of the event was fun and lighthearted, as any summertime picnic among friends and comrades should be.
Although the event was attended by familiar faces, there were many newcomers at the event. Naturally, they felt right at home with men and women that are trying to honor and preserve the culture and heritage of their forefathers, just like them. Council literature was distributed to the newcomers, who seemed keenly interested in the most effective activist organization fighting for the rights of White people.
Category: American Voice, Establishment News