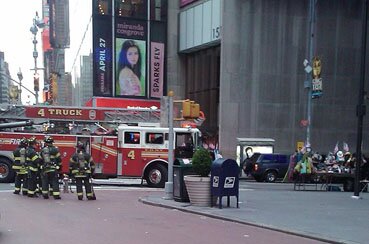 The largest domestic threat to America comes from immigration and not "homegrown terrorism" as claimed by Homeland Security Secretary Janet Napolitano today.
Appearing before the Senate Homeland Security and Governmental Affairs committee Wednesday alongside FBI Director Robert Mueller and National Counterterrorism Chief Michael Leiter, Ms. Napolitano claimed that by "homegrown" she meant "terrorist operatives who are U.S. persons, and who were radicalized in the United States."
The increasing threat from these "homegrown radicals" makes terrorist plots against America harder to detect and more likely to succeed, she added, while Mr. Leiter said there were more homegrown attacks or attempts in the last year than at any time since Sept. 11, 2001.
Importantly, Ms. Napolitano's evidence cited the shootings at Ft. Hood in Texas, which left 13 dead, and the attempted Times Square bombing.
However, both those incidents have a clear link to Third World immigration, and only by stretching the imagination could they be considered "homegrown."
In the first case, that of the Fort Hood shooting, the attack was carried out by Nidal Malik "AbduWali" Hasan who was born in Virginia from parents who had emigrated from Jordan and moved to the U.S. from a Palestinian town near Jerusalem.
A later investigation showed that prior to the shooting, he had expressed extremist views which had been brought to the attention of his superiors and the FBI and had exchanged e-mails with Yemen-based but New Mexico-born radical Imam Anwar al-Awlaki, asking for spiritual guidance regarding violence.
The attempted New York Times Square bombing was carried out by Pakistani-born Faisal Shahzad who had been granted an H1-B visa for "skilled workers" in 2002, after studying in this country on an F-1 student visa.
In September 2009, Afghanistan-born Najibullah Zazi and a number of co-conspirators were arrested after planning to carry out suicide bombings on trains in the New York City subway system, including near the Times Square station, during rush hour that month.
It is not even a case of black Muslim groups in America, therefore, but obviously imported Muslims from the Middle and Far East who have targeted this country because of what they correctly perceive to be U.S. support for Israel against the Muslim world.
It is devious therefore to try and blame "homegrown" radicals for attacks upon America, when the perpetrators — even of the 9-11 attacks — were all born in the Middle East.
Rather, the blame for increasing terrorism in America should be put squarely where it belongs: on the government for encouraging immigration and for allowing the Zionist lobby to dominate our foreign policy.
In fact, the Sept. 11 attacks and the 1993 WTC bombing (perpetrated by a collection of Middle Eastern-born terrorists living in America: Ramzi Yousef, Mahmud Abouhalima, Mohammad Salameh, Nidal A. Ayyad, Abdul Rahman Yasin, Ahmad Ajaj, and Eyad Ismoil) were all motivated by American support for Israel.
The leader of the 1993 bombing team, Ramzi Yousef, had mailed letters to various New York newspapers just before the attack, in which he claimed he belonged to 'Liberation Army, Fifth Battalion' and made three demands: an end to all U.S. aid to Israel, an end to U.S. diplomatic relations with Israel, and a demand for a pledge by the United States to end interference "with any of the Middle East countries' interior affairs."
In his letters, Yousef said that the attack on the World Trade Center would be merely the first of such attacks if his demands were not met and admitted that the World Trade Center bombing was an act of terrorism, but that this was justified because "the terrorism that Israel practices (which America supports) must be faced with a similar one."
* It is, of course, important to note that the Zionist lobby is not made up exclusively of Jews, but also of a very large number of fundamentalist Christians, as personified by John Hagee, founder and National Chairman of the Christian-Zionist organization, Christians United for Israel.
The American Third Position's policy is to halt and reverse Third World immigration and to maintain strict neutrality in the Middle East (and elsewhere in the world, for that matter).
The A3P believes firmly that this is the only way in which foreign terrorism on our shores can be countered.
Category: Establishment News