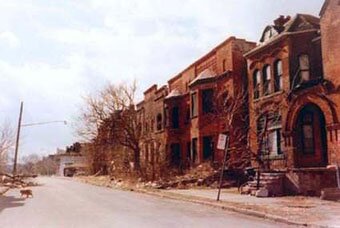 A new report by the left-wing policy research and advocacy organization Center for American Progress (CAP) has inadvertently confirmed that "recent immigrants and Hispanics" have brought poverty to the formerly white-dominated suburbs of many American cities.
The CAP report, titled "Trouble in the Suburbs," said that the nation's suburbs, once considered by some to be white-picket-fenced safe havens from inner-city poverty, are now home to nearly one-third of America's poor.
According to CAP, there were 13.7 million poor people in the suburbs as of 2009, a 37 percent increase since 2000.
There were 1.6 million more poor people living in the suburbs surrounding the nation's largest metro areas last year than in inner cities, and in Chicago this increase was of the order of 50 percent.
"Research uncovered similar trends in more than half the nation's largest metro areas," the report added.
The reason for the increase was clearly identified, inadvertently of course, as being the increase in the Third World origin, nonwhite, population.
The first factor which CAP identified was "low-income families leaving deteriorating high-poverty neighborhoods in central cities" which somehow mysteriously now find "themselves settled in new pockets of poverty in the suburbs."
The CAP report did not dwell on why these "high-poverty neighborhood" people had ended up that way in the first place, but one can speculate that if it had, it would most likely have blamed "white racism" somewhere along the way.
According to the report, "Conditions in inner cities have deteriorated, and that has led many poor people to move outside of the area to surrounding suburbs."
Once again, no explanation was offered as to why exactly these inner city conditions have "deteriorated," although anyone seeing the tidal wave of nonwhites flooding all of the major cities could easily explain it.
Despite this, the CAP report was finally forced to admit a racial element, saying that "suburban communities have seen increased racial and income stratification as low-income workers — particularly recent immigrants and Hispanics — followed the migration of low-skilled and low-wage jobs out of central cities."
The CAP report concludes by saying that the "remarkably high growth of suburban poverty contradicts our commonly held perceptions of suburbs as leafy subdivisions, gated communities, and, in general, refuges from poverty in cities."
The truth could not be more obvious. Third World immigrants have brought with them Third World poverty and backwardness to America.
The inner cities, which were once majority white, were first destroyed by black "block busting" and federally mandated forced integration programs.
This led to "white flight" taking place to the suburbs, which in turn created the black disaster zones typified by Detroit; Gary, Indiana, and dozens of other cities.
Now, with the influx of yet another wave of Third World Hispanics, the cycle of destruction and poverty is now spreading out to the suburbs.
Soon there will be nowhere left for white Americans to run, so they had better make up their minds now to either stand or face extermination.
Those who choose to stand, will do so in the ranks of the American Third Position.
Category: Establishment News