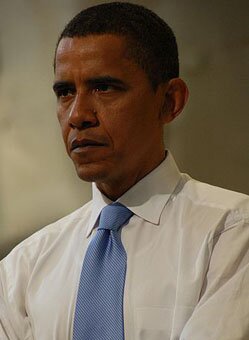 In what would be attacked as "racism" if done by a white president, Barack Obama has ordered members of the Congressional Black Caucus (CBC) to mobilize racially to vote in upcoming elections to "keep the other side" out.
In a speech before the CBC Foundation's annual Legislative Conference Phoenix Awards Dinner in Washington, President Obama urged members to "help rally their constituents and remind them that more work must be done to move the country forward," according to a report on CNN.
"I need everybody here to go back to your neighborhoods and your workplaces, to your churches and barbershops, and beauty shops," President Obama said.
"Tell them we have more work to do. Tell them we can't wait to organize. Tell them that the time for action is now."
The report on CNN made no remarks on the overtly blacks-only nature of the event or the organization.
Contrast that with its coverage of any political activity directed at or for white Americans where the "facts" are presented with extreme bigotry and obligatory comment from both journalists and others who condemn such activities as "racist."
Even more telling was President Obama's remark about his opponents, who he called the "other side."
In what CNN interpreted as a "swipe against Republicans," but actually meant whites, President Obama added, "Of course, the other side has a plan too. It's a plan to turn back the clock on all the progress we've made."
He said the last election was a "changing of the guard — now we need to guard the change," he said.
According to the CNN report, the "Congressional Black Caucus is a nonprofit, nonpartisan group that serves African-Americans and other under-served communities."
It is an indication of the degree of the anti-white distortion which has crept into American politics that a black president can call for black racial mobilization and be praised for it in the mass media, while any attempt by white Americans to organize in their own interests is attacked and denigrated.
The American Third Position exists to break these double standards once and for all.
Category: Establishment News