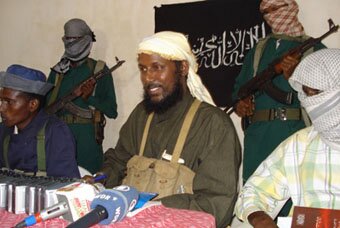 The arrest of another three Somalis living in California for links to the fanatic Muslim guerrilla army in Somalia has highlighted once again the fact that Third World immigrants do not stop being Third Worlders simply by acquiring an American passport.
According to media reports, three Somalis living in San Diego have been arrested and charged with "aiding Somalia's al-Shabab militia, an al-Qaida-linked rebel group behind murders, beheadings, and bombings in East Africa."
The three arrested men were named as Basaaly Saeed Moalin, Mohamed Mohamed Mohamud (obviously naming him Mohammed twice was not enough), and Issa Doreh.
Moalin was arrested Sunday while trying to board a flight out of San Diego, and the two others were arrested a day later.
San Diego is home to one of the largest Somali communities in America, apart from the twin cities of Minneapolis/St. Paul.
In addition, a media report said, "many Somalis living in California have come to the U.S. through Mexico, raising questions about legal cross-border immigration by non-Latinos."
The three newest arrests are the latest in a long list of such Third World immigrants with American citizenship who have been arrested or linked to the Somali murder gang.
According to a five-count indictment, the men are charged with conspiracy to provide material support to terrorists, conspiracy to provide material support to a foreign terrorist organization, and conspiracy to kill in a foreign country.
Al-Shabab has been linked to two bombings that killed more than 70 people, including many foreigners, watching World Cup matches on TV in Uganda, as well as several other attacks inside Somalia.
In August this year, charges were laid against another 14 "Americans" by Attorney General Eric Holder for trying to fund or join al-Shabab.
Holder said at the time that an "increasing number of U.S. residents have become captivated by extremist ideology," and that about 20 young men left Minnesota from 2007 to 2009 to join al-Shabab.
The implication is obvious: the importation of Third World immigrants has caused the importation of Third World culture.
The liberal belief that racial origin, belief systems, and ethnicity can be cast aside by the issuing of an American passport, is proving to be a deadly delusion.
The time has come to halt the Third World invasion of America. The traditional parties have not only utterly failed to protect our borders and people, but have actively betrayed them to the enemy.
The American Third Position exists to set all of these wrongs right. Isn't it time you joined up to play your part?
Category: Establishment News