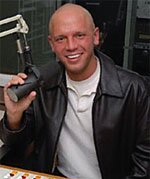 British National Party leader Nick Griffin, MEP, will be interviewed on tomorrow's Political Cesspool radio program, show host James Edwards has announced.
In a post on his website, Mr. Edwards, who is also a director of the American Third Position, said that we have worked out the details to bring back Nick Griffin for an all-new interview.
"Nick Griffin is the chairman of the British National Party and was recently elected as a Member of European Parliament. His stunning ascension to Europe's highest governing body has been heralded as a turning point for those of us who champion paleoconservative viewpoints," Mr. Edwards wrote.
"Mr. Griffin's forthcoming interview with us will be stored in the broadcast archives immediately upon the completion of our live show, enabling you to share it with your friends and family after the fact."
The announcement of the interview was made originally by BNP overseas liaison officer Andy McBride on that party's website, Mr. Edwards continued.
The show will be broadcast from the AM 1380 WLRM Radio Studios in Memphis, Tennessee, is syndicated on the Liberty News Radio Network, and is also available via the Internet.
Mr. Griffin will appear on the show at 6:00 PM Central Time, which is equivalent to midnight U.K. time, Saturday, September 25.
The Political Cesspool advocates an America First philosophy and has received a certificate of recognition from the Memphis City Council for "Outstanding Contributions to the Community" with its hosts having been named Honorary City Councilmen.
The Political Cesspool can be found on the Internet here.
Category: American Voice