admin
| December 15, 2010 |
15 comments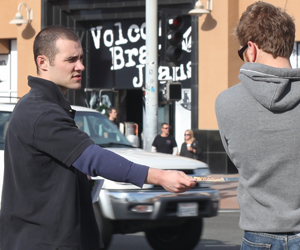 This last Saturday, December 11th, party members from A3P's Southern California branch held yet another public outreach event in their familiar Orange County stomping ground of Huntington Beach. Per their usual program, A3P's SoCal activist team set up their Truth Booth at the mouth of the Huntington Beach pier, an area highly trafficked by beach-goers from all over the country.
A3P's SoCal activists determined prior to the event that they would speak with interested passersby about the Dream Act, the establishment's latest attempt to legitimize the invasion of our country. With Southern California having for decades experienced the brunt of illegal immigration, A3P's activists expected their outreach to be welcomed by considerable interest. A good portion of the people they spoke with, however, had not even heard of the Dream Act. Several other people, although more informed, were surprisingly apathetic about the proposed legislation (having already passed in the House of Representatives).
"We went into the day hoping to find people furious with the actions of our government," reported Mitch Stevens. "I was shocked to find the majority of people I spoke with were entirely unaware of our government's latest amnesty proposal. "
Stacey Winters, A3P's lone female in attendance, had this to say: "We really did expect a greater degree of interest. The people we talked to who did know of the Dream Act seemed almost resigned to its passage and the passage of similar legislation in the future. Although virtually everyone agreed that the DA is an invitation to even more invaders, none considered the possibility that we as Americans have the power to determine who enters our land."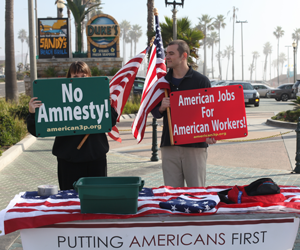 Brian Alexander was the only one of Saturday's activist trio to encounter argument favoring the Dream Act. "One fellow I spoke with regurgitated the establishment line about "fairness" and the "innocence" of illegals brought to our country as children by their illegal-immigrant parents. I pointed out to him that true fairness is a nation's ability to govern itself. I stressed that it is unfair for people to come to our country against our will."
Saturday's outreach particularly highlighted the enormous chasm separating the establishment's agenda from the interests and desires of ordinary Americans. Even more specifically, it demonstrated the effect such disconnect has had on our people. Although our country was founded on the idea of self-governance, a good portion of our people seem to have given up this idea and, instead, surrendered to tyranny. Decades of confusion politics and anti-American legislation have left many Americans with a sense of hopelessness and political impotence.
Members of the American Third Position understand that the fate of future generations rests on our ability to reawaken our people's hunger for liberty. The A3P aspires to challenge the establishment by providing our people an alternative to the policies pushed on us for decades by treacherous establishment politicians. Although assuredly an uphill battle, outreach events like those held by our Southern California branch are initial steps on the road to changing the way our nation is governed.
Join the American Third Position, and help us to create a movement capable of frustrating the designs of greedy elites bent on the destruction of our country. Our people deserve an alternative. Together, we can win!
Category: American Voice, Establishment News