Erick Erickson of RedState, a leading conservative Republican blog, is losing faith in his "red team" wing of the bipartisan machine. In his recent post, The Rise of the Third Party, he takes aim at Senate Minority Leader Mitch McConnell…
I have long criticized the calls of many disaffected conservatives for a third party and I maintain that position. The closest I have come to calling for a third party is to encourage tea party activists to take over the GOP from within.

External third parties are not, in my mind, a solution to anything, but a great enabler of Democrats.

Notwithstanding my opinion, I believe the GOP, should it adopt Mitch McConnell's Pontius Pilate Act, will be sowing the seeds of its own destruction.
For those with better things to do with their time than keep up with Washington politics, Erickson's reference to the Pontius Pilate Act is a reference to McConnell's "clever" attempt to punt responsibility for raising the debt ceiling by passing a resolution that empowers Obama to raise it unilaterally. In theory, this absolves the GOP of both the fallout of betraying the tea party's budget hawks and the fallout from a reduced credit rating and increased borrowing costs that come with defaulting on our creditors. Insiders like McConnell are proving to their tea party hardliners what we at the A3P could have told them for free: They'll don your tri-corn hats, flap around your Gadsden flags, and carry on about balanced budgets if that's what it costs to get your vote. But don't ask for theirs.
If you have to ask how much their vote costs, you can't afford it.
In short, a vote for McConnell's Pontius Pilate Act will cause a serious third party problem for the GOP. And we're already seeing signs of it.
The game theory underlying America's "winner-takes-all" process does indeed gravitate towards two large and largely similar parties–and we need reform. But as American history has already shown, major parties can and do self-destruct from time to time. More importantly right now, the threat of a third party rift is the only thing that will force the GOP's leadership to listen to their base. Sure, there's a risk of tipping the election in favor of a Democrat. In theory, that's bad. In reality, what's the difference? Two years of tolerating a Democrat is a small price to pay for real structural change in the GOP. Is Obama really that much worse than Bush on the issues that matter? Isn't the GOP healthier without McCain in the White House pushing for even more wars and pushing even harder than Obama's pushing for amnesty?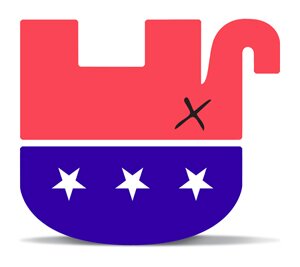 Of course, I don't think the GOP can be fixed. I think it will burn and I'll be cackling maniacally and fanning the flames when it does. White Americans deserve authentic representation and only we in the A3P can offer that. White Americans deserve a balanced budget without giving up their basic services and only we can offer that. Tea Party patriots should be commended for standing by their guns when it comes to balancing the budget, but they still see this as a fiscal and economic problem. This is a people problem, a problem of wealth transfer from "us" to "them".
Fiscal conservatives like Erick Erickson like to carry on about math, about buckling down and making the tough decisions necessary to balance the budget. The math they don't have the stomach for is the demographic math. There is a large and rapidly growing "them": non-Whites, alienated minorities, hostile immigrants, and cosmopolitan elites. They don't care about the constitution. They don't care about the country's future. It's not their country. It's not their homeland, heritage, or honor on the line. They are successfully transferring trillions of dollars worth of wealth from "us" to "them" and they're not going to stop themselves. They're not going to stop themselves from immigrating here by the tens of millions or reproducing at much higher rates than we are.
We and we alone are the only party capable of balancing the budget because we're the only party that understands the problem. We're capable of promising a hat trick of balancing the budget and investing more in our nation's outdated infrastructure, health care, and Social Security entitlements. We can make and keep this promise to our constituents because we're not making promises we can't keep. We're not promising to close the education gap. We're not promising in-state tuition to Mexican citizens. We're not promising a Section 8 voucher to Black single moms who wish to live in the suburbs for free. We're not promising to bring about a golden age of world peace through global military hegemony.
If you believe the two major parties when they promise these things, keep voting for more Democrats and Republicans. If you believe they have what it takes to keep your Social Security and Medicare solvent, keep voting for more Democrats and Republicans. Obama can carry on about his high-speed rail, but there will be no high speed rail. America's falling behind by every major metric. China's able to afford bullet trains because they're not making the same mistakes we're making. The Chinese are investing in their future. Meanwhile, we're borrowing against our future to invest it in the future of Detroit gangbangers, foreign invaders, Afghan warlords, and Israeli military toys.
Sure, tea party candidates like Michele Bachmann are promising to make the big cuts necessary to balance the budget, but ignore Erick's cheerleading for a moment and look what's coming out of the other side of her mouth…
I am convinced in my heart and in my mind that if the United States fails to stand with Israel, that is the end of the United States . . . [W]e have to show that we are inextricably entwined, that as a nation we have been blessed because of our relationship with Israel, and if we reject Israel, then there is a curse that comes into play. And my husband and I are both Christians, and we believe very strongly the verse from Genesis [Genesis 12:3], we believe very strongly that nations also receive blessings as they bless Israel. It is a strong and beautiful principle.
Erick Erickson stands with Michele Bachmann and he stands for a future where we're marginalized and resented minorities in the homeland our forefathers risked their lives to offer to us as a sacred inheritance. Washington politics is an argument between a faction which wants to tax us to death and a faction which wants to cut off the entitlements we've already paid and leave us for dead. Pick your poison.
…Or pick the A3P.
Category: American Voice, Establishment News