According to Eve Conant of the Daily Beast, "A startling number of white-power candidates are seeking public office. Eve Conant reports on their under-the-radar strategy and David Duke's White House flirtation."
A former grand wizard of the Ku Klux Klan, member of the Louisiana House of Representatives and Republican executive-committee chairman in his district until 2000, Duke has a significant following online. His videos go viral. This month, he's launching a tour of 25 states to explore how much support he can garner for a potential presidential bid. He hasn't considered running for serious office since the early '90s, when he won nearly 40 percent of the vote in his bid for Louisiana governor. But like many "white civil rights advocates," as he describes himself to The Daily Beast, 2012 is already shaping up to be a pivotal year.
Former (and current) Neo Nazis, Ku Klux Klan members, neo-Confederates, and other representatives of the many wings of the "white nationalist" movement are starting to file paperwork and print campaign literature for offices large and small, pointing to rising unemployment, four years with an African-American president, and rampant illegal immigration as part of a growing mound of evidence that white people need to take a stand.

Prior to Nationalist Socialist Jeff Hall's death, he had campaigned for a low-level water board position in Riverside, California. The swastika-wearing plumber who patrolled the U.S. border paramilitary-style walked away with almost 30 percent of his community's vote. "That's a sizable amount of the vote for a person running openly as a Neo Nazi," says Marilyn Mayo, co-director of the Anti-Defamation League's Center on Extremism. While Hall's political future—and life—has been cut short, Mayo points out that we should expect more white supremacist hopefuls next year.
And now a few words from Mark Potok of the polyphobic SPLC group:
What followed in 2010, say extremism watchers, was the biggest electoral push by white supremacists in years. "We've seen increasing numbers of white supremacists and others on the radical right running for electoral office for several years now and we likely had more in the last election than in any other in recent memory," says Mark Potok of the Southern Poverty Law Center. "Although extremely few of these people are elected, especially if their views become known during the campaign, the fact that there are so many openly running for public office reflects the growth of white nationalism over the last 10 years."

Potok's group tracked 23 candidates in 2010 with radical right-wing views, nine of whom they described as white supremacists or white nationalists. (The others had extreme immigration and world-conspiracy views but did not specifically have links to white organizations.) One candidate, the neo-Confederate Loy Mauch, won a seat in the Arkansas House of Representatives, and another, James C. Russell, who has denounced interracial marriage, garnered 37 percent of the vote in his quest for the New York House of Representatives. Some candidates benefited from a new umbrella organization—the A3P, or American Third Position—which was launched in 2010 by a handful of wonkish-looking professors and corporate lawyers to, as they wrote in their mission statement, "represent the political interests of White Americans." One of their political hopefuls, Atlee Yarrow, who has filed paperwork to run for Florida governor in 2014, says the Southern Poverty Law Center has listed A3P as a hate group "but it has open membership that mirrors the NAACP. They [NAACP] can have identity politics, but if white people do it, it's considered racist?"

Disappointed with Ron and Rand Paul and other leaders who they feel are close, but not close enough, to their views—the A3P has fielded candidates like Harry Bertram, who ran for the West Virginia board of education last fall, pulling down 14 percent of the vote. He's now angling for governor. "My platform is conservative like the Tea Party but more racialist inclined," Bertram says. Another A3P candidate won 11 percent of the vote in a recent run for a seat in the New Hampshire House of Representatives. Those numbers are small, but hardly laughable, especially for a new group explicitly running on a white-interest ticket. "We're just beginning," says board member Jamie Kelso, who says the group's platform includes a complete moratorium on immigration. "But we're filling a void."
Sounds like fear of white American candidates!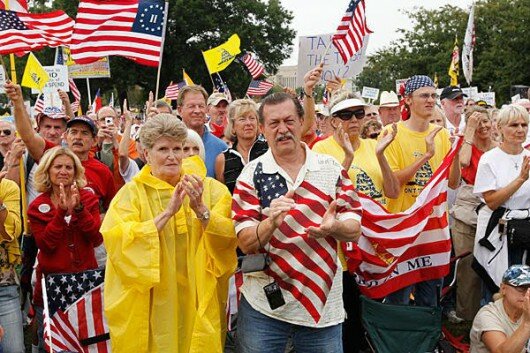 Category: American Voice, Establishment News