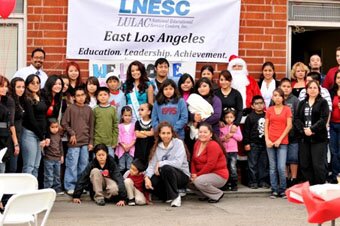 White Americans have continued to be ethnically cleansed from California schools and have dropped once again in numbers to 27 percent of the total, down from an outright majority only 20 years ago.
New figures released by California's Department of Education show that only 27 percent of students in state schools were classified as white in the 2009–2010 school year.
There were 6.2 million students enrolled in k–12 schools in California, of which only 1,674,000 were "white" according to the figures. Even this is likely to be an overestimate, as the state follows federal classifications and calls Middle Easterners white as well.
The scope of the Hispanic invasion and reproduction rate is best illustrated by their increase over the black population, a racial group famed for their ability to increase in numbers.
In 2009–2010, however, blacks "only" made up 9 percent of the state's school population, while 6.9 percent were Asian.
This compares to the previous 2008–2009 school year, when 7 percent of school students were black.
In that year, 28 percent of students were white, while 8 percent were Asian. Hispanics compromised 49 percent, a figure which this year has jumped to 57.1 percent.
During the 1990s, more than 1.3 million people with less than a high school education entered the USA. Of those who arrived in this decade, 34.4 percent were school dropouts.
In 1998, nearly 40 percent of immigrants had less than a high school education — double the share of natives, according to the 1990 census figures. The gap widens when grade school education is considered. Some 23 percent of immigrants have less than nine years of education, compared with just 4 percent of Americans.
Forbes magazine posed the question: "Why has immigration increased the poverty rate?" and then answered it by saying: "They (the immigrants) are unlikely to do well in the knowledge economy" (due to their lack of skills).
Latinos in California have the highest high school dropout rate (45 percent), lowest college graduation rate (8 percent) and, not surprisingly, the lowest median income.
The Latino education gap in California is not new. Previous studies show the same was true as far back as the 1940s.
It is thus clear that the problem of uneducated Third World immigrants is not a temporary issue that subsides with increased opportunity, but in fact gets worse with the passage of time.
The high school dropout rate is not something new to immigrants in the USA: it is common in the Third World origin countries of these immigrants. The high school dropout rate in most Latin American countries exceeds 50 percent.
Mexico, for example, has an illiteracy rate in excess of ten percent, and Guatemala has an illiteracy rate of over 40 percent.
Third World immigration into the USA has therefore delivered a mass of undereducated people, unable to work in a society that is highly dependent on technology — the complete opposite of what the pro-immigration lobby alleges.
Category: Establishment News