admin
| March 23, 2010 |
13 comments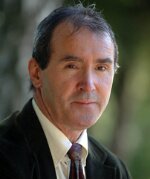 Speaking to a large audience during his travels to Southern California, Tom Sunic, former professor and Croatian diplomat, announced his having joined the directorate of the American Third Position. The move followed a private meeting held between Chairman Bill Johnson, Director Kevin MacDonald, and other party leaders, where Dr. Sunic was introduced to the mission and strategy of the American Third Position. Always endeavoring to help his fellow countrymen, Tom Sunic did not hesitate to join the ranks of the directorate.
Before giving lecture as to the state of Nationalist political movements in Europe, Dr. Sunic offered a few words to mark the occasion. "I'd like to thank my friends and future comrades. I am here of service." Short on ceremony and focused on the subject at hand, Dr. Sunic proceeded to brief the audience on the political climate in Europe. He cautioned the audience against viewing the political climate there as something wholly unique to Europe, and he pointed out that American Nationalists had many advantages over their European counterparts. As evidence, he pointed to the fact that America has a massive population of Europeans living within its borders, that there exists a history of cohesiveness amongst these peoples, and that we still have a great many freedoms, as compared to the former, communist Yugoslavia.
Having himself lived through the tyrannical reign of a communist dictatorship, Dr. Sunic also stressed that our fight is not as bad as it may seem. Despite the image of itself the establishment is able to project, it is not all-powerful, and it's ability to maintain control can quickly evaporate before a people with the will to win.
"The very same people… who were communists, arch communists, became over night, literally, in one week… they became arch Nationalists", said Dr. Sunic, recounting the downfall of the communist government in Yugoslavia. "The very same people you may now find distrustful….may flock to our rank and file", he continued.
His optimism and words of encouragement were received with roaring applause. Still not quite finished, however, he made an appeal to all those in attendance to become members of the American Third Position.
It is with great pleasure that we welcome Dr. Tom Sunic to the Board of the American Third Position. His unique experiences in Europe, his expertise in language and in literature, his intimate knowledge of Nationalist politics, and his incredible ability to inspire to action all those he comes into contact with will be of tremendous benefit to the party.
Category: American Voice