Author Archive for admin
A3P Web Nerd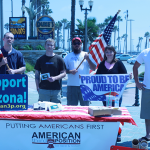 Over the weekend, the Southern California A3P team assembled before a crowd of thousands at Huntington Beach, where it delivered fliers and spoke with eager community members about the program and goals of the blossoming young party.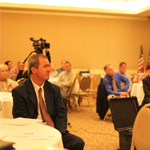 One will find video of the conference in its entirety at the A3P YouTube page.

A3P Chairman, Bill Johnson, and A3P Director, Dr. Kevin MacDonald, are to appear on The Political Cesspool Radio Program this Saturday evening, July 17, at 6pm CST, to discuss the A3P's blistering response to media attacks on the party, the story behind having won the support of two-time gold medalist, Bob Richards, and the party's [...]

The American Third Position has just made a triple-digit donation to Arizona's Border Security and Immigration Legal Defense Fund. On July 6, the U.S. Government took this courageous state to federal court, challenging the enforcement provisions of SB 1070. The fund has raised over a half million dollars to date, most of which was contributed in the [...]

Chairman's Message, July 11, 2010 American Hero Joins the A3P Effort When I was a child growing up in the 1950s, I had two heroes. One was the singing cowboy, Gene Autry. I remember wearing a T-shirt with his image on it. Regarding my other hero, I remember eating many breakfasts with his face and [...]

On Saturday June 26, members of A3P Northeast distributed hundreds of "Globalization: Not a Good Thing" and "American Jobs for American Workers" handbills to an enthusiastic Oktoberfest crowd. The team of super-activists conducted a similar program of outreach the following week, on July 3, at the Morristown, NJ Tea Party rally, the largest of those [...]

Feel free to express your anger below.

It is with great pleasure that the American Third Position announces the incorporation of the League of American Patriots into the A3P. The League's tireless efforts in promoting the principles of liberty, sovereignty, and identity, the courage and dedication of its leaders and members, and the gracefulness by which it presents its message to the [...]