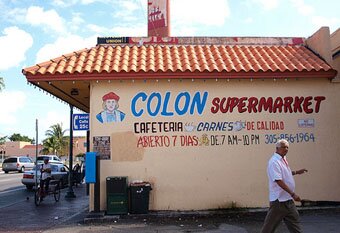 Americans who are concerned about the future of our country would do well to study the collapse of Fort Lauderdale, Florida, which is now at least 79 percent nonwhite and is unable to pay for basic services such as policing.
According to the 2000 census, 67.74 percent of Fort Lauderdale's population was black, 21.2 percent "white" and the rest a mix of Hispanic, Pacific Islander, and others.
Lauderdale Lakes has a high percentage of West Indian-born population, who are not considered as"African-American." In 2000, there were 10,078 people, or 36.3 percent of the city's population, who were born in the West Indies.
Over half of those, 5,312 people, reported Jamaica as their place of birth, accounting for 16.75 percent of the city's population. Another 3,543 people, 11.17 percent, were born in Haiti.
The effect of this massive importation of Third World immigrants, and their Third World poverty, has been marked.
According to a report in the South Florida Sun Sentinel, which serves Broward, Palm Beach, and Miami and Dade County, the Broward Sheriff's Office (BSO) has been forced to drastically cut services to Lauderdale Lakes because the city has fallen some $6 million behind in its monthly payments.
"I have an obligation to the taxpayers of Broward County to ensure that services are provided based on allocated funding," Sheriff Al Lamberti was quoted as writing in a Nov. 5 e-mail which notified the city leaders of the pending change.
Nine sergeants and deputies will be transferred from Lauderdale Lakes to other BSO-served cities and the city will also lose the use of a ladder fire truck and 12 firefighters.
"We have no choice but to scale back services to the residents of Lauderdale Lakes," Lamberti said.
Fort Lauderdale is a microcosm of what is happening all across Florida. The racial demographics of the city outlined above are, of course, over ten years out of date.
The white population is likely to have shrunk even more over the past decade, in line with the general percentage reduction in that state.
According to the 2000 census, 82.45 percent of Florida's population was classified as white. A 2005 census estimate put that figure at 63.1 percent white, a dramatic 20 percent collapse in just 5 years.
The Fort Lauderdale case study, when compared to the California state bankruptcy, provides irrefutable evidence that Third World immigration destroys the economy, and does not "build it up" as liberals continually allege.
The American Third Position exists to inform and motivate white Americans to stand up and resist the destruction of their nation. Will you play your part by joining us today, before it is too late?
Category: Establishment News